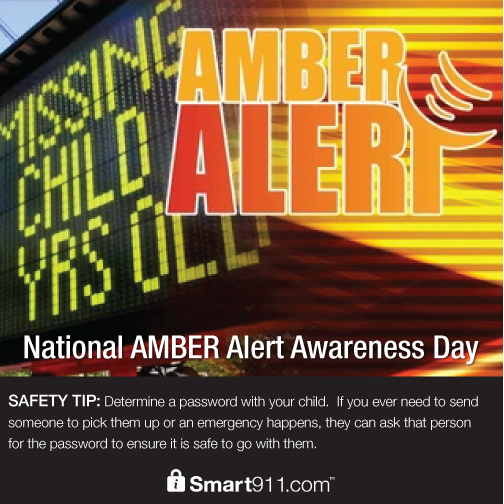 Raceland, LA January 13, 2015 – Tuesday, January 13 will mark the 19th anniversary of AMBER Alert Awareness Day, which honors the day nine year old Amber Hagerman was abducted while riding her bicycle in front of her family's home in Arlington, Texas, and found murdered two days later.  In recognition of this day, Lafourche Parish Communications District is encouraging parents to do three things to keep their children safer.
Smart911 recommends to parents:
Determine a password with your children. If you ever need to send someone to pick them up or when an emergency happens, they can ask that person for the password to ensure it is safe to go with them.
Be aware of how much information about your child is available. Do not add their names to backpacks or post information about them, including name, address or school on social media websites which can be viewed publically.
Create a free, private and secure Safety Profile for your household at www.smart911.com which can include current photos and physical descriptions of your children. If a child goes missing and a family member calls 9-1-1, their Safety Profile will be displayed to the dispatcher allowing them to share the child's photo and description to responders in the field immediately.
According to the National Center for Missing and Exploited Children, the first three hours are the most critical when trying to locate a missing child. When a child is reported missing it can take an hour or more just to distribute a current photo to law enforcement officers in the field. Smart911 is available to all residents through Lafourche Parish Communications District and public officials encourage all families to take advantage of the free service by signing up today. A mother in Arkansas experienced the benefits offered by Smart911 when she received a call that her daughter did not get off the bus at daycare. Frantic, she dialed 9-1-1 and her family's Smart911 Safety Profile appeared, including her daughter's photo and description. The call taker was able to use that information to send deputies to the scene immediately. The actual 9-1-1 call can be heard here: http://youtu.be/7Nfwol3Zi8k"As a parent, having a child go missing can be the most terrifying moment: you may not be able to think straight, remember critical information or even communicate effectively," said Chief Warren Vedros. "Smart911 can have a dramatic impact on these situations and we encourage families to be proactive about safety and sign up today". Introduced more than four years ago by Rave Mobile Safety, the trusted software partner for campus and public safety, Smart911 is active in 38 states and more than 1,000 communities. It has been credited with positively impacting emergency situations across the U.S., including the missing child case in Arkansas, and saving lives, such as a heart attack victim in Nashville and a house fire victim in Michigan.